Filaments of the cosmic web shine in the X-rays in the early eROSITA survey data.
In a recent study the ByoPiC team takes advantage of the most recent X-ray survey, SRG/eROSITA, to confirm unambiguously the detection of an X-ray signal associated with thermal emission from a hot plasma in cosmic filaments.
This signal from only 460 filaments, located in the first 140 deg² survey published by the SRG/eROSITA collaboration, has allowed the density and temperature of the plasma to be constrained precisely.
 
- INSU-CNRS news (in French) : https://www.insu.cnrs.fr/fr/cnrsinfo/les-grands-filaments-de-la-toile-co...
- Article in Astronomy and Astrophysics: https://www.aanda.org/component/article?access=doi&doi=10.1051/0004-6361...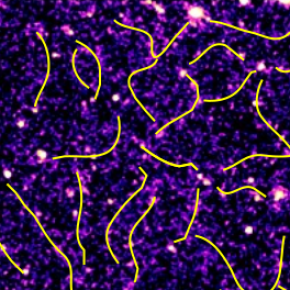 Representation of large filaments of the cosmic web © Tanimura, Aghanim / CNRS & Erosita